WALNUT GROVE - 26th March 2010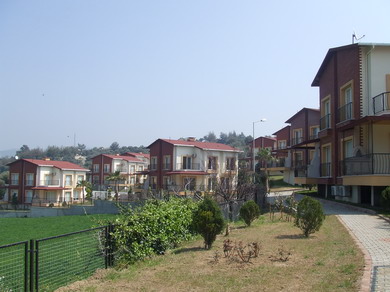 Walnut Grove – 26th March 2010 – Preparations for Summer Season.
WALNUT GROVE - 29th April 2009


Final prepartions for summer season underway at Walnut Grove.
WALNUT GROVE - 26th September 2008


End of summer gardening work underway at Walnut Grove.
WALNUT GROVE - 1st May 2008


Scenic pool at Walnut Grove has been cleaned, filled and is ready for use from 1st May 2008. 2nd pool is undergoing its final clean and will be ready for use next week.

The Tennis Court has been painted and completed and is ready for use (tennis net still to be delivered).

Garden clean up and maintenance in preparation for 2008 season has been underway for the last number of weeks.
WALNUT GROVE - 19 October 2007


All at Walnut Grove is well with landscaping settling down well. A major overhaul of all garden areas is underway now that gardens have had time to root and settle. Glass Chimney/Air Ventallation covers have been replaced on all villas with a wood and asphalt covering.
WALNUT GROVE - 10 September 2007


Some general shots of Walnut Grove 10th September 2007
WALNUT GROVE - 08 August 2007


Cobblelocking to front of Walnut Grove that was being completed by the council is now finished and entrance to site now completed.

Landscaping has settled down - gardening company on site daily to help ensure planting is settling. Grass cutting of site regularly and daytime caretaker also tending to gardens.
WALNUT GROVE - 21 July 2007


Main Entrance Gate to Walnut Grove has been erected being the final work to completely securing the site.

Many residents are now enjoying the site and have taken occupation of their properties.
WALNUT GROVE - 12 July 2007


Walnut Grove site begining to settle and take on its final finished look. Some areas remain to be addressed which include surfacing of tennis court area, construction of main gate at entrance (all above services/supplies have been ordered and we await delivery), capping off of some walled areas and whitewash painting of some walled areas. All other site works completed at Walnut Grove with 15 owners already taken posession of their properties.
WALNUT GROVE - 26 June 2007


Site at Walnut Grove coming close to final finish - all landscaping now completed, surrounding fencing completed with entrance gated area remaining. Tennis Court to be surface painted and wrought iron to be painted. 15 owners have now taken possession of their properties and feedback thus far has been extremely positive.
WALNUT GROVE - 08 June 2007
WALNUT GROVE - 25 May 2007


Walnut Grove coming very close to completion - final landscaping works continuing and site cleanup has started. 2nd Pool currently being cleaned and will be filled over this weekend.
WALNUT GROVE - 18 May 2007


Final finishing site works in the form of landscaping and site cleanup currently underway and continuing apace.
WALNUT GROVE - 11 May 2007


Landscaping work at Walnut Grove well underway with planting of shrubs, flowering shrubs and plants, bushes, trees and roses all currently taking place

General cleaning up of site well underway - works remain for finishing the tenniscourt area, wrought iron around the 2nd pool area and other general site works such as painting of walls, finishing of fencing.
WALNUT GROVE - 01 May 2007


Work on final finishing touches at Walnut Grove continue with commencement of landscaping, delivery of topsoil, fitting of fencing to wall tops , fitting of public lighting and final works on 2nd pool.
WALNUT GROVE - 25 April 2007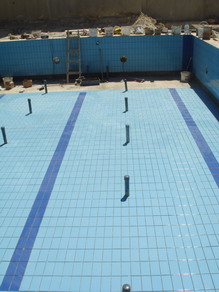 Site works comping very close to completion. All roads and pathways now in place with a general clean up of same left to be completed. 2nd pool is coming close to completion with work on terrace area started and tiling almost completed. Owners of No 33 take posession of their property last week.
WALNUT GROVE - 22 April 2007


Roads and pathways at Walnut Grove due for completion Tuesday 23rd April. Last finishing underway on unsold and later built properties. 1st pool filled and ready for use. 2nd pool has been sealed and tiling currently underway. 3 more property owners have been out to inspect and take ownership of their properties in the last week.
WALNUT GROVE - 10 April 2007


Site works continuing apace with roads and pathways continuing and coming close to completion. 1st pool and terrace area completed. Snag list work continuing and housing being prepared and cleaned for furniture delivery and customer arrivals. 2nd property owners No 17 have taken possession of their property.
WALNUT GROVE - 03 April 2007


Continuation of siteworks continues. We have had some delays in the last week due to several heavy rainfalls but works are continuing on all parts of site as weather permits. The 1st pool has been completely tiled and terracing around pool is close to completion. The last and final pour of concrete ever at Walnut Grove was completed on Monday 2nd April for the 2nd pool! Roads and pathways are continuing to be constructed. Final finishouts are underway in properties 32, 33, 41.42, 49, 50 and the detached villa No 40. All other properties are completely finished with snagworks ongoing. Delivery of trees, shrubs and landscaping has been postponed for 10 days to allow all hard construction of road and pathways to finish.

Our first resident No 14 took ownership of their property on Friday 30th March with snag list and cleaning completed for their arrival. All contents have been delivered to their property and await their return visit.
WALNUT GROVE - 30 March 2007


Continuing work on site facilities (pools, road and pathways) continues apace. Finishouts on last properties continues. Garden areas being cleared for topsoil and landscaping.
WALNUT GROVE - 27 March 2007
WALNUT GROVE - 26 March 2007


Pool works underway with 1st pool at tiling stage and 2nd pool under construction. Roads and pathway construction continue at pace. Site clearance and delivery of soil for landscaping underway. All underground works completed with delivery of mains electric boxes due to be installed this week.
WALNUT GROVE - 23 March 2007


CONSTRUCTION OF ROADWAYS AND PATHWAYS COMMENCES AND UNDERWAY AT WALNUT GROVE - EXCAVATÝON OF 2ND POOL COMPLETED
WALNUT GROVE - 19 March 2007


Site Underground Works at Walnut Grove finishing this week with roadways and landscaping commencing later this week and continuing into next week. Site due to complete 8th April with pools filling beginning of May.
WALNUT GROVE - 03 March 2007

Hard Landscaping and Number 32&33
WALNUT GROVE - 09 FEBRUARY 2007
WALNUT GROVE - 17 JANUARY 2007


Hard construction of 1st pool completed. Finish out works ongoing. Site underground works and construction of 2nd pool due to commence in next week or 10 days.
WALNUT GROVE - 09 JANUARY 2007
WALNUT GROVE - 06 NOV 2006
WALNUT GROVE - 17 SEP 2006
WALNUT GROVE - 13 AUGUST 2006


Finish out on built houses progressing well with most properties coming close to completion. Concrete Dispute has prevented us from finishing the concrete pouring on approx 11 blocks so progress with these properties has stopped until the dispute is resolved. Newsletter are being published and sent to all owners to keep you updated on progress.
WALNUT GROVE - 20 JULY 2006
WALNUT GROVE - 27 JUNE 2006


Work on site is now almost 24hours per day to endeavour to minimise any further delays. Estimated finish date for houses is 1st week or 10 days of August assuming no further delays from delivery of fixtures and fittings etc. Site works will be ongoing from this date onwards and advise will be given as to saftey of site for occupation closer to the date. Houses at various stages with some almost completed, others a roofing stage and a few still being constructed. Work on Tennis Courts has commenced with work on swimming pool behind No 30 & 31 due to commence in next 10 days.
WALNUT GROVE - 22 MAY 2006
WALNUT GROVE - 02 MAY 2006
LEMON GROVE - 19 APRIL 2006
WALNUT GROVE - 06 APRIL 2006