.: Updated Photographs Of Site :.


OLIVE GROVE - 08 AUGUST 2005



OLIVE GROVE - 02 AUGUST 2005



OLIVE GROVE - 29 JULY 2005



OLIVE GROVE - 18 JULY 2005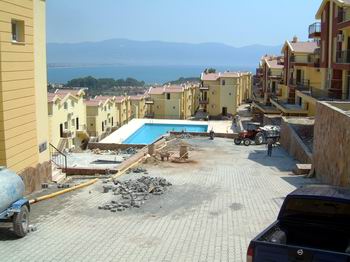 CUSTOMERS MOVES IN THEIR HOUSE



OLIVE GROVE - 12 JULY 2005



OLIVE GROVE - 03 JULY 2005


VIEW OF OLIVE GROVE FROM MAIN ROAD

SITE WORKS STILL ONGOING - POOL INTERNAL TILING ALMOST COMPLETE

INTERNAL COBBLE-LOCKED ROAD CURRENTLY UNDER CONSTRUCTION

INTERIOR OF HOUSES ALMOST FINISHED WITH PREFERENCE BEING GIVEN TO HOUSES BASED ON ARRIVAL DATES OF OWNERS - SOME GRANITE WORKTOPS STILL TO BE FITTED, BATHROOMS SUITES TO BE SECURED IN PLACE(ALL ON SITE BUT SOME NEED FIXING), INTERNAL DOOR FIXED AND HUNG AND GLASS WINDOW FITTINGS REMAIN TO BE DONE.




OLIVE GROVE - 29 JUNE 2005

Villa 63 and 64




OLIVE GROVE - 20 JUNE 2005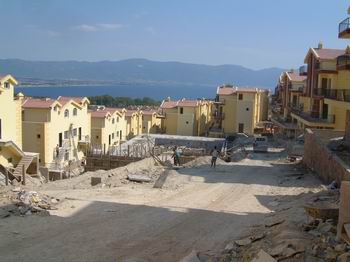 OLIVE GROVE - 13 JUNE 2005



OLIVE GROVE - 6 JUNE 2005



OLIVE GROVE - 27TH MAY 2005


UNDERGROUND WORKS (ELECTRIC, WATER SUPPLIES AND SEWAGE) - WORKS WELL UNDERWAY AND ON SCHEDULE

POOL CONSTRUCTION UNDER WAY WITH FIRST CONCERET BEING POURED - APPROX 7 DAYS BEHIND SCHEDULE

HOUSES FINISH OUTS, FIXTURES AND FITTINGS ONGOING

BUILD SCHEDULE - APPROX 3 DAYS BEHIND

POOL, INTERNAL ROADS AND LANDSCAPING - APPROX 7 DAYS BEHIND SCHEDULE




OLIVE GROVE - 21ST MAY 2005


MAJOR CONSTRUCTION WORK OF APARTMENTS AND TOWNHOUSES AT TOP OF SITE (1-20) COMPLETED WITH INTERNAL AND EXTERNAL PLASTERING WELL UNDERWAY.

EXTERNAL PLASTERING IS COMPLETED ON ALL OTHER PROPERTIES WITH RED BRICKWORK DETAIL AND BALCONIES CONSTRUCTION ALMOST COMPLETE.

EXTERNAL PAINTING OF PROPERTIES STARTED WITH 10 COMPLETE AND WORKS ONGOING.

INSTALLATION OF KITCHENS AND BATHROOMS COMMENCING THIS WEEKEND ON COMPLETED PROPERTIES.

INTERNAL PLASTERING AND COVING COMPLETED ON OVER TWO THIRDS OF THE PROPERTIES WITH WORKS CONTINUING

BUILDING OF FIREPLACES IN LOUNGES AND BUILDING OF BARBEQUES ON TERRACES COMPLETE ON IN MOST PROPERTIES

CERAMIC TILING COMPLETED IN APPROXIMATELY 75% OF THE
INSTALLATION OF PVC WINDOWS COMPLETED IN ALMOST HALF PROPERTIES WITH WORKS ONGOING

CONSTRUCTION OF ALL SITE INTERNAL SUPPORTING WALLS ALMOST COMPLETED WITH DECORATIVE STONE WORK CURRENTLY BEING DONE.

FOUNDATIONS FOR POOL AND TENNIS COURT DIGGING ALMOST COMPLETE WITH CEMENT BEING POURED THIS WEEKEND.

BUILD 2 DAYS BEHIND SCHEDULE.




AERIAL PHOTOGRAPH - OLIVE GROVE - 9TH MAY 2005



OLIVE GROVE PROGRESS - 6TH MAY 2005


MAJOR CONSTRUCTION WORK OF APARTMENTS AND TOWNHOUSES AT TOP OF SITE (1-20) ALMOST COMPLETED WITH INTERNAL AND EXTERNAL PLASTERING COMMENCING THIS WEEK.

EXTERNAL PLASTERING IS COMPLETED ON MOST PROPERTIES WITHIN THE DEVELOPMENT, WITH RED BRICKWORK DETAIL AND BALCONIES CONSTRUCTED ON MOST PROPERTIES. ROOF TILE INSTALLATION COMPLETED AND/OR UNDERWAY ON MOST PROPERTIES.

INTERNAL PLASTERING AND COVING COMPLETED ON OVER TWO THIRDS OF THE PROPERTIES WITH WORKS CONTINUING

BUILDING OF FIREPLACES IN LOUNGES AND BUILDING OF BARBEQUES ON TERRACES COMPLETE ON IN MOST PROPERTIES

CERAMIC TILING COMPLETED IN ALL VILLAS TO FRONT AND TOP OF SITE AND APARTMENTS AND TOWNHOUSES TO FRONT OF SITE (21-30) - TILING CONTINUING IN OTHER PROPERTIES.

INSTALLATION OF PVC WINDOWS COMPLETED IN ALMOST HALF PROPERTIES WITH WORKS ONGOING

CHILDRENS PLAY AREA AND LARGE DETACHED VILLA CURRENTLY UNDER CONSTRUCTION.

CONSTRUCTION OF ALL SITE INTERNAL SUPPORTING WALLS ALMOST COMPLETED AND READY FOR COMMENCEMENT OF LANDSCAPING - POOL & TENNIS COURT CONSTRUCTION SLIGHTLY DELAYED (BECAUSE OF INTERNAL WALL CONSTRUCTION) BUT STARTING SHORTLY AND WILL BE COMPLETED IN 25 DAYS FROM COMMENCEMENT.

BUILD 4 DAYS BEHIND SCHEDULE.




OLIVE GROVE PROGRESS - 15TH APRIL 2005


MAJOR CONSTRUCTION OF ALL VILLAS AND APARTMENTS/TOWNHOUSES (21-40) COMPLETED. CONSTRUCTION OF APARTMENTS AND TOWNHOUSES (1-20) WELL UNDERWAY WITH MOST BLOCKS AT 2ND FLOOR LEVEL

EXTERNAL PLASTERING IS COMPLETED ON ALL PROPERTIES ALONG THE FRONT OF THE DEVELOPMENT, 4 BED VILLAS AND REMAINING 3 BED VILLAS CURRENTLY HAVING PLASTERWORK APPLIED.

INTERNAL PLASTERING AND COVING COMPLETED ON VILLAS 63-68 AND APARTMENTS 21-40 WITH PLASTERERS CURRENTLY WORKING ON 4 BED VILLAS (69-76) AND 3 BED VILLAS (57-62) WITH OTHERS DUE TO COMMENCE SHORTLY

BUILDING OF FIREPLACES IN LOUNGES AND BUILDING OF BARBEQUES ON TERRACES COMPLETE ON VILLAS 63-68. AND UNDERWAY ON APARTMENTS/TOWNHOUSES 21-40.

CERAMIC TILING UNDERWAY IN ALL VILLAS TO FRONT AND TOP OF SITE (63-68, 41-46) AND APARTMENTS AND TOWNHOUSES TO FRONT OF SITE (21-30)

WROUGHT IRON RAILINGS INSTALLATION ON ALL PROPERTIES TO FRONT OF DEVELOPMENT COMPLETED WITH WORKS ONGOING ON REMAINING PROPERTIES.

RED BRICKWORK DETAIL COMPLETED ON ALL PROPERTIES TO THE FRONT AND TOP OF DEVELOPMENT.

INSTALLATION OF PVC WINDOWS AND DOORS CURRENTLY UNDERWAY

CHILDRENS PLAY AREA AND LARGE DETACHED VILLA CURRENTLY UNDER CONSTRUCTION.

POOL & TENNIS COURT CONSTRUCTION COMMENCING NEXT WEEK.

BUILD 3 DAYS BEHIND SCHEDULE.




PROGRESS UPDATE OLIVE GROVE - 23rd March 205


CLEAR SPELL OF WEATHER HAS ALLOWED US TO PROGRESS QUICKLY OVER THE LAST FEW WEEKS - SITE IS CURRENTLY OPERATING 18 HOURS PER DAY ON AVERAGE !

EXTERNAL PLASTERING IS COMPLETED ON MOST PROPERTIES ALONG THE FRONT OF THE DEVELOPMENT WITH PLASTERS MOVING ONTO NEXT PROPERITES AS THEY COMPLETE.

INTERNAL PLASTERING AND COVING HAS COMMENCED ON VILLAS 63-68 AND APARTMENTS 21-30.

BUILDING OF FIREPLACES IN LOUNGES AND BUILDING OF BARBEQUES ON TERRACES HAS COMMENCED ON VILLAS 63 - 68.

ALL PLUMBING AND INTERNAL ELECTRICAL WORKS ARE COMPLETE ON MOST PROPERTIES.

CONSTRUCTION OF APARTMENTS ALONG THE BACK (1-20) UNDERWAY - APARTMENTS 1 -4 AT FIRST FLOOR LEVEL & 5-20 AT GROUND FLOOR LEVEL (WILL BE COMPLETED IN 4 WEEKS) WITH FINISH OUT COMMENCING AFTERWARDS.

CHILDRENS PLAYAREA CURRENTLY UNDER CONSTRUCTION.

POOL & TENNIS COURT CONSTRUCTION COMMENCING IN APPROX 2 WEEKS TIME.

CERAMIC TILES HAVE BEEN DELIVERED TO SITE AND TILING OF BATHROOMS IN PLASTERED VILLAS, APARTMENTS AND TOWNHOUSES DUE TO COMMENCE NEXT WEEK.

BUILD ON SCHEDULE.




PROGRESS UPDATE OLIVE GROVE - 3rd March 05


SITE STARTING TO TAKE SHAPE -
FOUNDATIONS FOR BACK APARTMENTS (1-20) BEING POURED AND INSULATED
VILLAS AT FRONT OF SITE (63-68) PLASTERWORK FINISHED EXTERNALLY - INTERNAL SMOOTH PLASTERING AND COVING STARTING THIS WEEK
ALL OTHER PROPERTIES AT VARIOUS STAGES OF CONSTRUCTION AND PROGRESSING WELL




PROGRESS UPDATE OLIVE GROVE - 15th FEBRUARY 2005


PLUMBING AND ELECTRICAL WORKS COMMENCED AND IS PROGRESSING WELL WITH SHELL UNITS - EXTERNAL PLASTER WORK HAS COMMENCED ON SHELL UNITS

SECOND PHASE CONSTRUCTION OF BACK ROW OF APARTMENTS 1 - 20 HAS COMMENCED WITH SUPPORTING WALL CONSTRUCTED AND FOUNDATIONS BEING POURED THIS WEEK.

ALL REMAINING VILLAS IN 2ND PHASE (41-46) ALSO COMMENCED WITH SOME AT 1ST FLOOR LEVEL ALREADY




PROGRESS UPDATE OLIVE GROVE - 31st Jan 05


PROGRESS AT OLIVE GROVE - VILLAS AT LOWER PART OF SITE AND APARTMENTS TO FRONT OF SITE ALMOST COMPLETE TO SHELL AND CORE STAGE - OTHER PROPERTIES IN BUILD PROGRESSING WELL




PROGRESS UPDATE OLIVE GROVE - 17th January 2005


FIRST 15 BLOCKS NEARING SHELL AND CORE COMPLETION STAGE - ROOFS OF TWO BLOCKS COMPLETED WITH OTHERS UNDERWAY (Rear of Villa No's 65 & 66 pictured)

BRICKWORK FOR FIRST 15 BLOCKS REACHING COMPLETION

NEXT 5 OF 2ND 13 BLOCKS COMMENCED WITH FOUNDATIONS ALREADY POURED AND BASEMENT CONSTRUCTION COMMENCING FOR APARTMENT NO'S 37-40, VILLAS 53 & 54, 55 & 56, 59 & 60 and 61 & 62





PROGRESS UPDATE OLIVE GROVE - 6th January 2005


FIRST 15 BLOCKS NEARING COMPLETION TO 2ND FLOOR LEVEL - FOUNDATIONS FOR REMAINING 13 BLOCK COMMENCING EXCAVATION

Picture taken from rear of no 63 and shows 3 bed villas and apartment stepped up front of site - swimming pool location will be to the left of tractor in photograph




PROGRESS UPDATE OLIVE GROVE - 28th December 2004
>

PROGRESS AT OLIVE GROVE IS MOVING ALONG VERY QUICKLY AND SMOOTHLY - THERE ARE 28 BLOCKS IN TOTAL AT THE SITE - THE FIRST 15 OF THESE 28 BLOCKS (APARTMENTS ALONG THE FRONT OF SITE, HOUSES TO FRONT OF SITE AND SECOND ROW AT BOTTOM OF SITE AND ROW OF 4 BED VILLAS) ARE APPROACHING FIRST FLOOR LEVEL.

THE REMAINING 13 BLOCKS - APARTMENTS AT TOP OF SITE AND REMAINING 3 BED VILLAS AT MIDDLE OF SITE - WILL COMMENCE THIS WEEK.

ALL PROPERTIES WILL BE FINISHED TO SHELL & CORE STAGE BY END OF JANUARY, 1ST WEEK OF FEBRUARY WHEN FINISH OUT WILL COMMENCE

Photographs from today show many of the first 15 blocks at, or approaching 1st floor level.




Basement and ground floor of Apartments No 29 - 32 pictured - basement is the solid concrete wall visible at bottom and ground floor is where the access planks are visible - first floor is being set up with metal supports to pour concrete at 1st floor level




PROGRESS UPDATE OLIVE GROVE - 15th December 2004

BASEMENT LEVEL CLOSE TO COMPLETION, WORKS ON GROUND FLOOR COMMENCING




PROGRESS UPDATE OLIVE GROVE - 6th December 2004


PROGRESS STEADY AT OLIVE GROVE - CONTINUED CONSTRUCTION OF FOUNDATIONS AND COMMENCEMENT OF SUPPORTING COLUMNS




PROGRESS UPDATE OLIVE GROVE - 2nd December 2004


FOUNDATION INSULATION COMMENCES - Foundations for 29 - 32 (Townhouses & Apartments) pictured




PROGRESS UPDATE OLIVE GROVE - 29th November 2004


SITE OVERVIEW - Concrete Foundations have been poured over last 3 days
Foundations for Apartments/Townhouses Nos 25-28 Foreground, Nos 21-24 Mid picture and Villa No's 67 & 68 in Background




PROGRESS UPDATE OLIVE GROVE - 26 November 2004


LARGE CEMENT MIXERS ARRIVE - 2100HRS 26th November - SUPPORTING WALL CEMENT POURED




PROGRESS UPDATE OLIVE GROVE - 22nd November 2004


FOUNDATIONS DIGGING COMPLETED FOR SEVERAL PROPERTIES (Foundations for Nos 29, 30, 31 & 32 shown) AND UNDERWAY WITH OTHERS - FIRST CONCRETE POURED AT OLIVE GROVE




PROGRESS UPDATE OLIVE GROVE - 8th November 2004


SITE SURVEY AND LAND MEASURING UNDERWAY




PROGRESS UPDATE OLIVE GROVE 1st NOVEMBER 04

FOUNDATIONS EXCAVATIONS BEGIN AT OLIVE GROVE




PROGRESS UPDATE OLIVE GROVE 28 Oct 04

CLEARANCE OF SITE & DRILLING FOR WATER WELL UNDER WAY AT OLIVE GROVE SITE